Ram Pro Master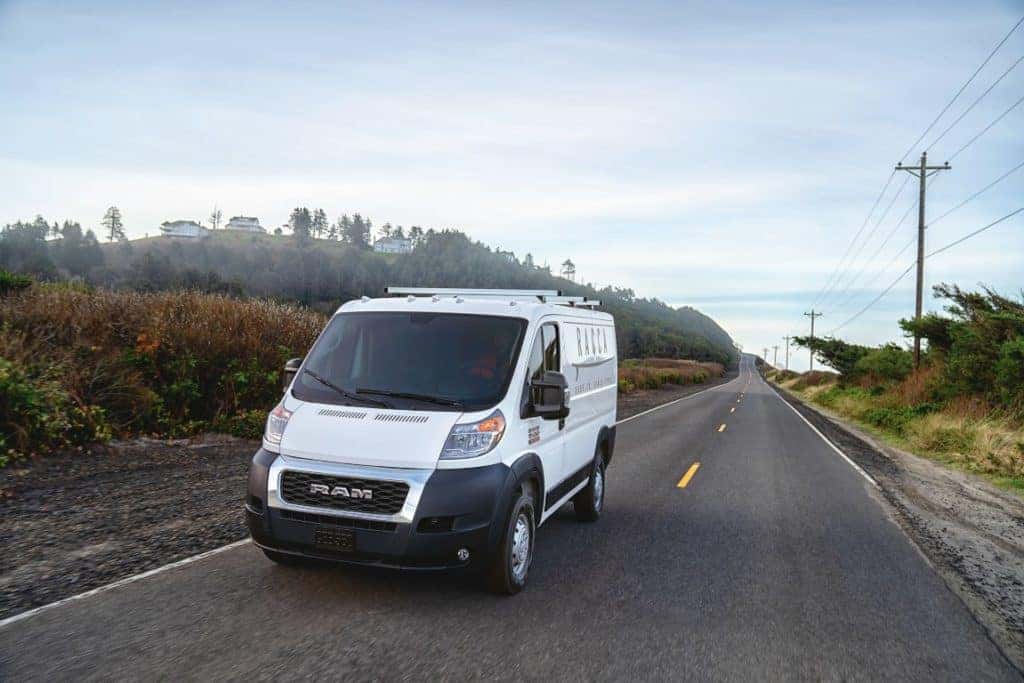 In the Twin Ports, businesses need a van that will do the job from start to finish. It has to deliver the goods, work around the house, and keep businesses running day and night.
Among full-size vans, the Ram ProMaster offers something different that is designed to give businesses an advantage over the competition. It starts with a range of engines, wheelbases, and roof heights – and that is just the beginning.
The main advantage is front-wheel drive. While a full-size van is usually made with rear-wheel drive, having a front-wheel-drive configuration offers two things: the first being a lower, flatter floor for loading and working on, and the second being better traction in inclement weather. It is built with a unit-body construction for a solid structure from the cab to the rear doors. In all, the ProMaster has higher stability under load and in varying road conditions to get the job done.
Being front-wheel drive, one would ask how strong the rear end will be. With an integrated unit-body structure, the rear suspension is designed for a GVW Rating of 9,350 pounds. It is also designed to maintain a level ride height, even under a heavy load.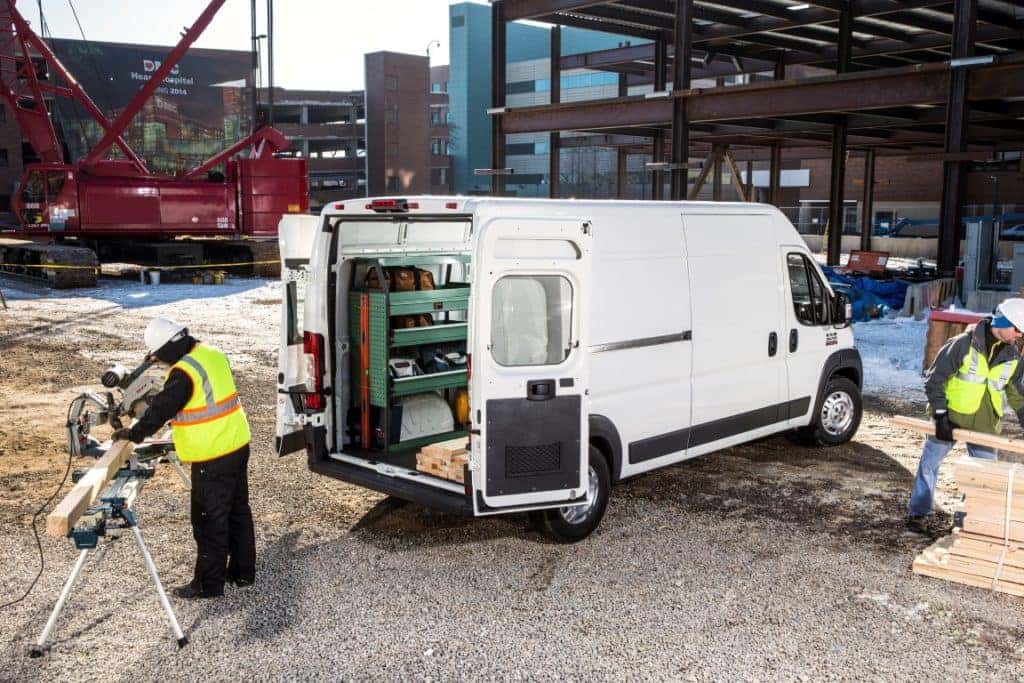 There is a choice of power: the Pentastar 3.6-liter V6 is standard with 280 horsepower and 260 pound-feet of torque, connected to a six-speed automatic transmission. This driveline is capable of pulling a maximum payload of 4,680 pounds and a maximum towing capacity of 5,100 pounds.
The driver and passenger have a cab that is designed for high productivity. A no-nonsense instrument panel is also available with a Uconnect infotainment system with Bluetooth connectivity for better hands-free communications. The driver sits high and has one of the best outward views in the business, including a short nose for clearer vision. Drivers also enjoy the best turning radius in its class – 36 feet, without steering wheel fatigue.
In the back, the step-up is only 21 inches – the lowest of any full-size van. Being front-wheel drive and lacking a driveshaft, the floor is wide and flat for more cargo or upfit utilization for workspace. There are two roof heights to choose from – 90 or 101 inches. In high roof models, a person over six-feet tall could work standing up inside the van – and can access the rear from the cab without bending down. The rear doors open 260 degrees to fully flat with the sides of the van, plus a 49-inch side door width. The ProMaster's walls stand nearly 90-degrees – no body bend to detract from workroom.
When it comes to safety, the ProMaster is among the best. With four-wheel disc Brembo anti-lock brakes, electronic stability program, and six airbags inside the cab, the ProMaster is designed to keep the driver, the passenger and all of the contents of the van protected at all costs. It is also a van that is lower in cost of repairs. The three-piece front-end bumper/grille is easy to remove and replace – reducing the cost due to damage by collision.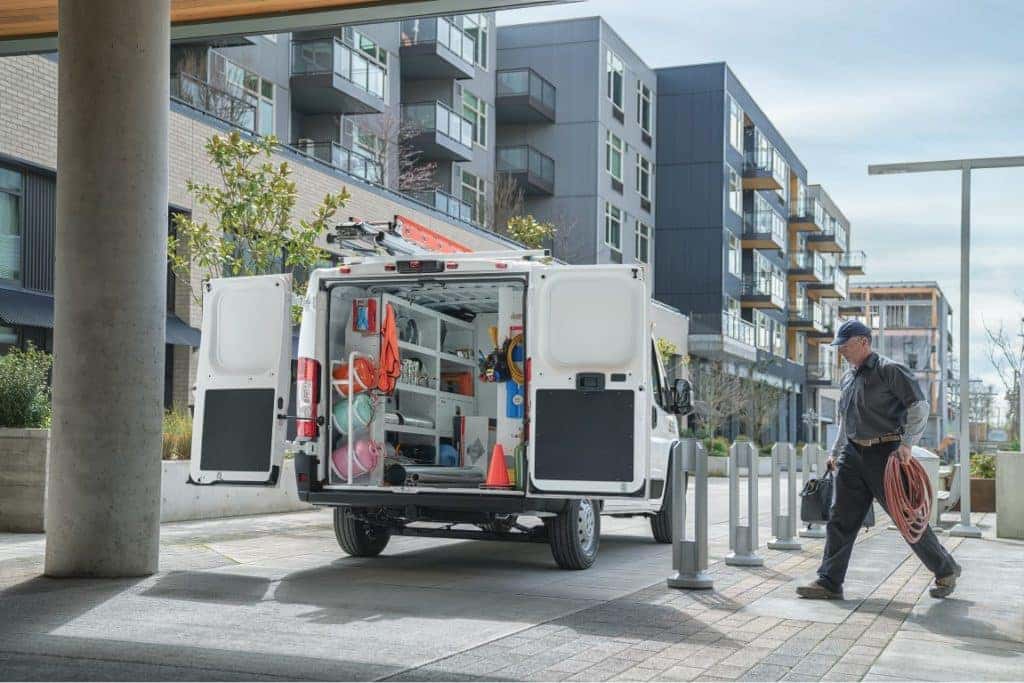 Along with the two roof heights, there are also up to three wheelbases and four body lengths available – a total of 14 configurations alone for the cargo van. The ProMaster is also available as a window van (high roof and long wheelbase only), a chassis cab, and a cutaway van.
Overall, ProMaster is designed for maximum uptime. The longer the ProMaster is on the road, it will achieve maximum profitability for both owner and operator.
Buying a ProMaster entitles the customer to a new world of support provided by Ram Commercial. Van customers will be able to shop for upfit options to customize their workspace from various vendors. Once a customer's ProMaster is work ready, they are supported with Ram's own BusinessLink – a program for small business towards easier purchasing of vehicles and a high level of support to keep their ProMaster on the road.
Pricing starts from $30,995.
Come see the Ram ProMaster at Benna Chrysler Jeep Dodge Ram – your Twin Ports home for MOPAR!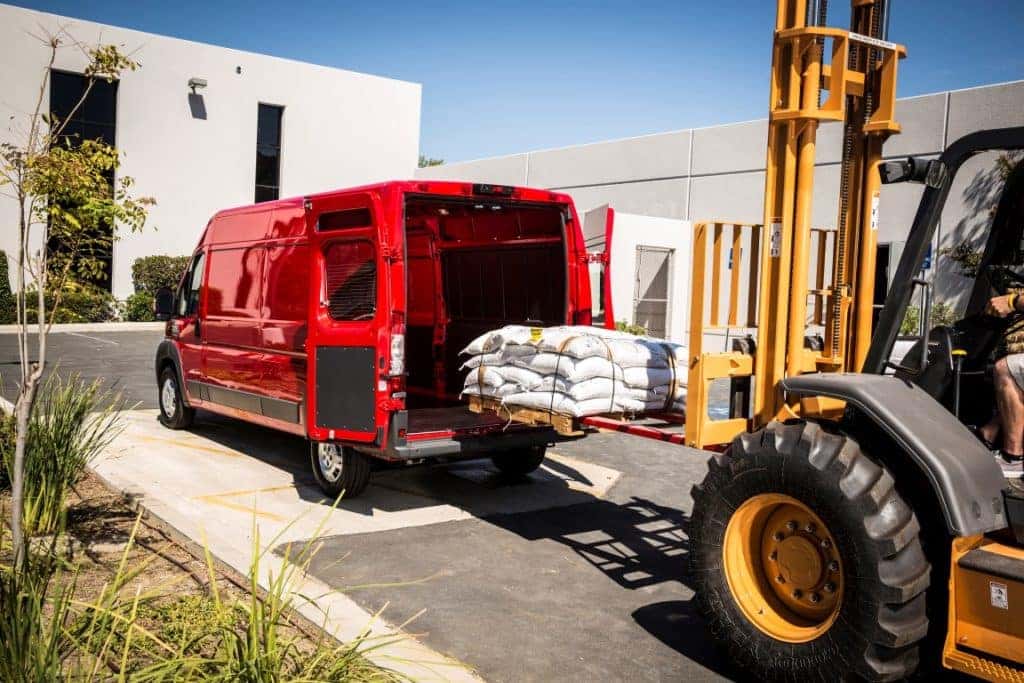 RAM PROMASTER
1500 Cargo: Starting at $30,995
Low Roof, 118-inch Wheelbase
Low Roof, 136-inch Wheelbase
High Roof, 136-inch Wheelbase
2500 Cargo: Starting at $33,895
Low Roof, 136-inch Wheelbase
High Roof, 136-inch Wheelbase
High Roof, 159-inch Wheelbase
3500 Cargo: Starting at $35,645
Low Roof, 136-inch Wheelbase
High Roof, 159-inch Wheelbase
High Roof, 159-inch Wheelbase, Extended Body
2500 Window Van: Starting at $36,845
High Roof, 159-inch Wheelbase
3500 Window Van: Starting at $40,695
High Roof, 159-inch Wheelbase, Extended Body
3500 Chassis Cab: Starting at $30,645
136-inch Wheelbase
159-inch Wheelbase
159-inch Wheelbase, Extended Frame
3500 Cutaway: Starting at $29,995
136-inch Wheelbase
159-inch Wheelbase
159-inch Wheelbase, Extended Frame