Back To Duty: The Jeep Gladiator XMT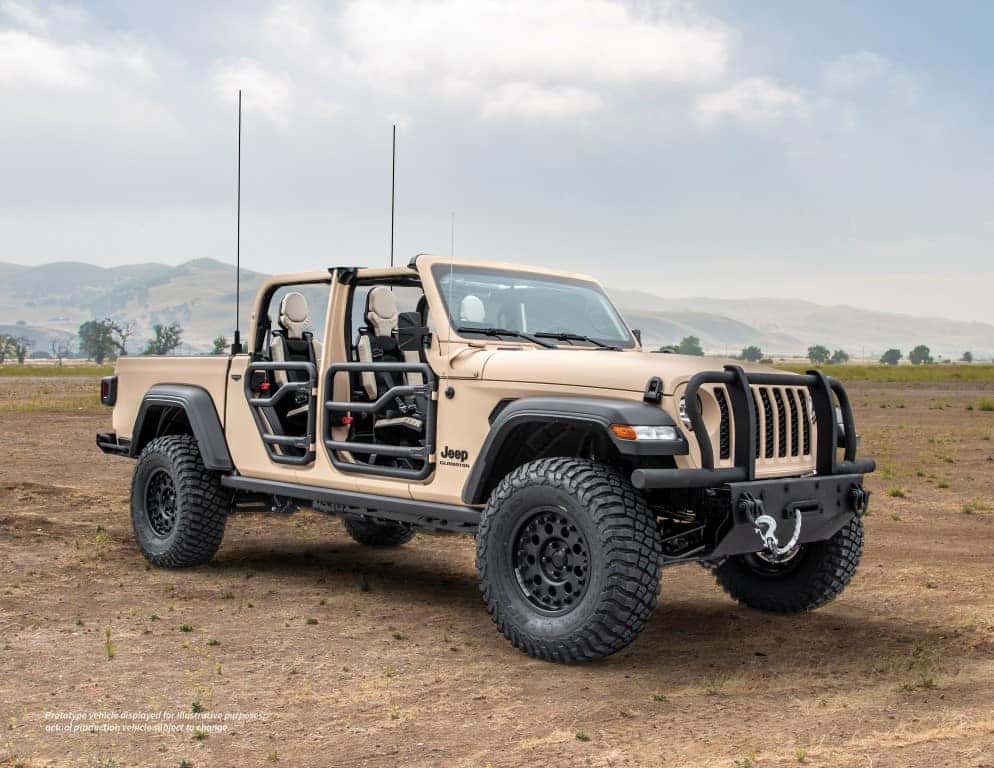 Jeep was born on the battlefield, fighting for world peace and freedom. These tough and nimble vehicles have served our armed forces since 1941.
In war and in peace, Jeep was there. And, now, it will return to duty.
In conjunction with AM General, the leading manufacturer of light tactical vehicles, Jeep will be back for service as the Gladiator Extreme Military-Grade Truck (XMT).
This is not the first time Jeep and AM General worked together on vehicles for our armed forces. In fact, both names have been linked since World War II putting Jeeps into service to transport troops, material, and reconnaissance use.
The Jeep Gladiator was seen as the right fit for use in the armed forces due to its built-in capabilities – class-leading payload of 1,600 pounds and a towing capacity up to 7,650 pounds, tough body-on-frame construction, and standard four-wheel-drive system.
AM General will take the Jeep Gladiator and build upon its capabilities towards field readiness. They have identified a series of parts and accessories that will build upon the truck's tough platform. These parts will include tactical communications and upfitting of military-grade parts for protection and security of the truck while in service.
The Gladiator XMT could be put to use as a reconnaissance vehicle, a troop carrier, a mobile communications base, and so forth.
Given the experience AM General had with the Humvee, the Jeep Gladiator is seen as a newer, lighter tactical vehicle for use with not only our own armed forces, but for other countries, as well. The vehicle has built-in capabilities that can tackle extreme terrain wherever it is put into service – from the deserts of the Middle East to the jungles of sub-Saharan Africa to the proving grounds of our armed forces back on home soil.
The Jeep Gladiator XMT will be sold in either gasoline or diesel versions for defense contracts here and worldwide.
The Jeep Gladiator is ready for duty right here on the homefront. Superior Jeep-Ram welcomes our veterans and active duty members of our armed forces in the Twin Ports area and beyond to check out this capable pickup truck. Take one for a test drive today!